A Quality Solution Designed for Clinical and Compliance Professionals. Every industry has unique quality management requirements. And this isn't a manufacturing industry.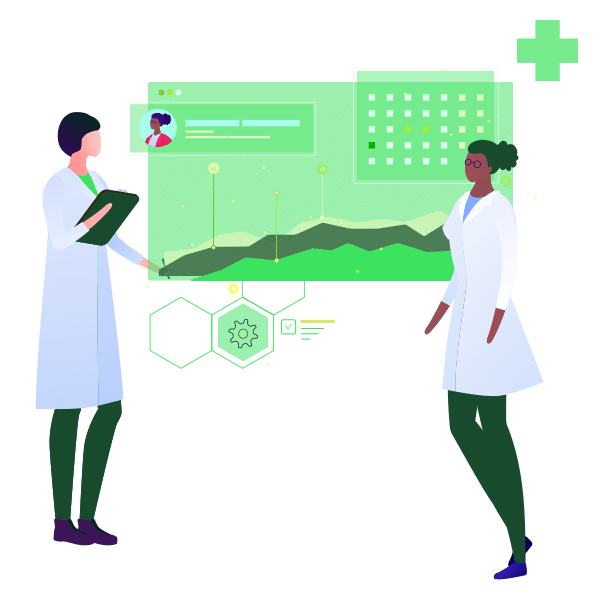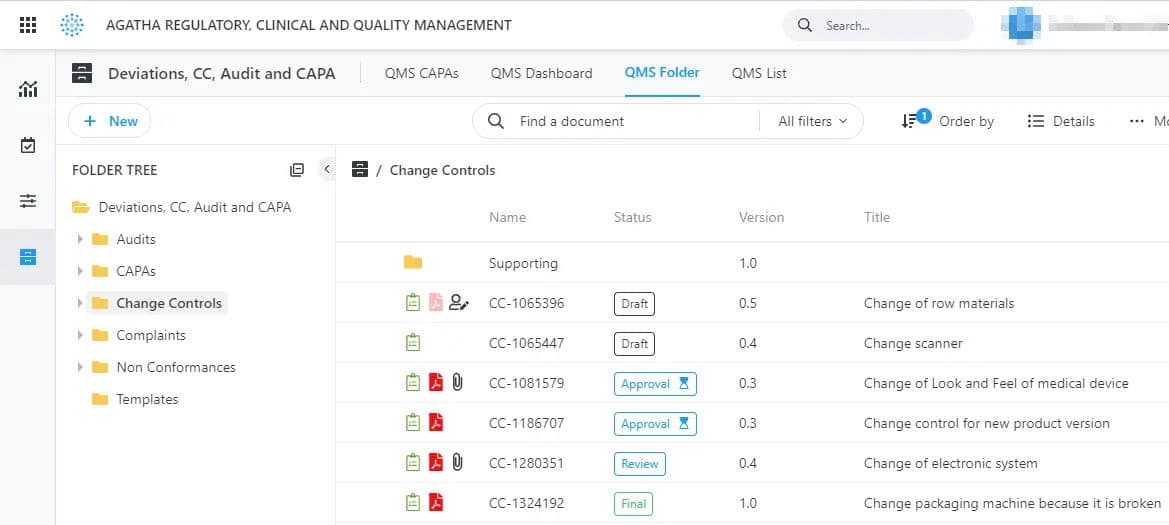 Finally, a QMS for Life Sciences
Effectively managing clinical, compliance, and quality processes is a mission-critical task at life sciences companies. Quality improvements accelerate trials and improve results, while quality failures can result in huge costs and disruptions. Choosing the right solution to track quality processes in clinical trials is a critical decision. It's time to look at Agatha Quality.
Agatha Quality (QMS) is a complete, ready-to-use quality management application for capturing deviations, documenting corrective and preventive actions (CAPAs), and managing change control processes. Most vendors provide quality management forms that are targeted towards manufacturing, but Agatha QMS is focused on the key forms needed to audit Clinical Processes (audit of Sites, CROs, etc.)
More than document management, QMS is an end-to-end quality management system. Combining forms, documents, and workflows, Agatha QMS comprises a complete toolset for quality managers, pre-configured, validated, and ready-to-use but easy to adapt to specific process requirements.

With Agatha Quality it is now possible to create a CTD that guarantees authenticity, readability, and storability in accordance with ER / ES guidelines.
Kiyuki Tanifuji
Group manager Development Planning Group, Clinical Development, Nihon Medi-Physics Co., Ltd.
How Agatha Quality Supports Compliance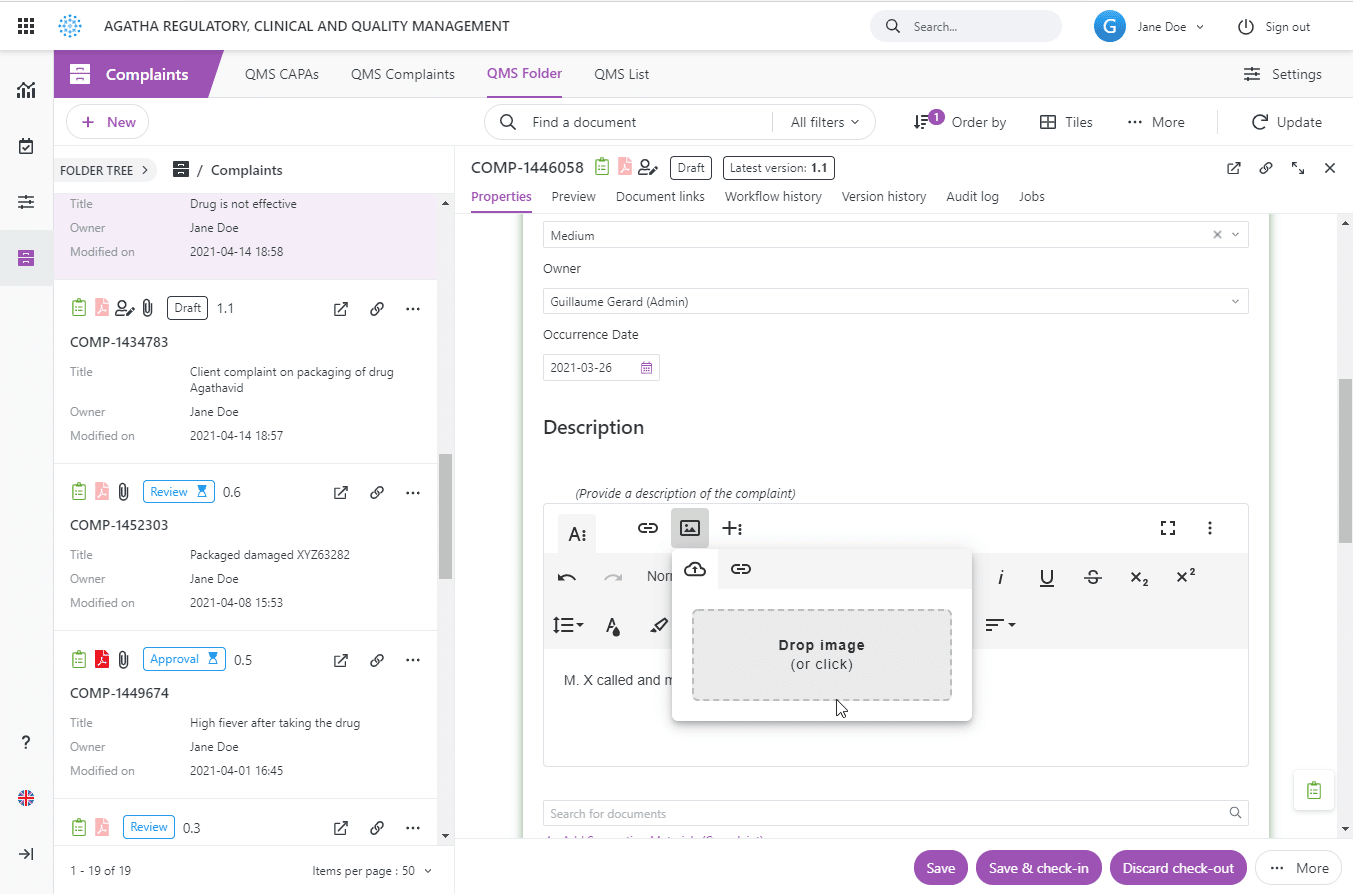 Work with ready-to-use standard forms and processes, or adapt them to support your needs. Forms include rich text fields that allow the addition of images and formatted text. Use the form designer to update the look and feel of your forms.
A single multi-part form supports all steps in a process from deviation to change control. Reviews, approvals, and assignments for actions are also built-in.
Create and manage trial sites based on the TMF Framework. Combine documents and forms to accelerate study processes.
Complete Metrics and Reporting
Get all the reporting you need with built-in dashboards and reports, and export reports for external reporting requirements.
Cross Workspace Reporting: You can also create views and reports across workspaces and export results to Excel for dashboard reports.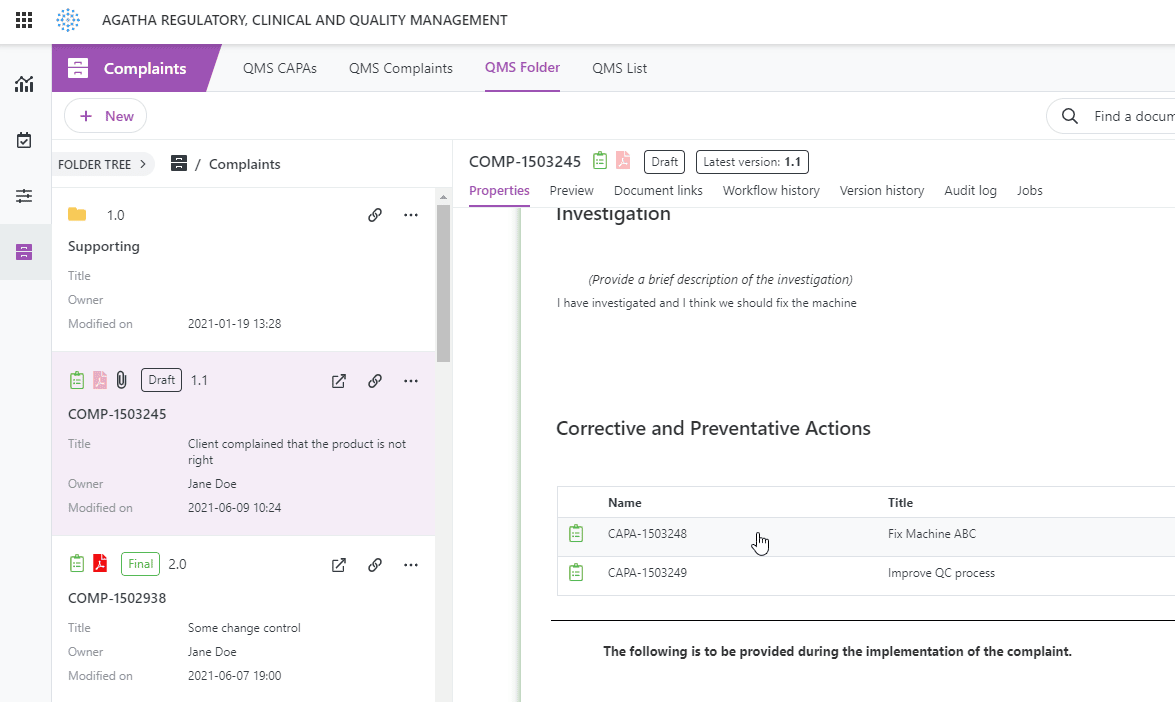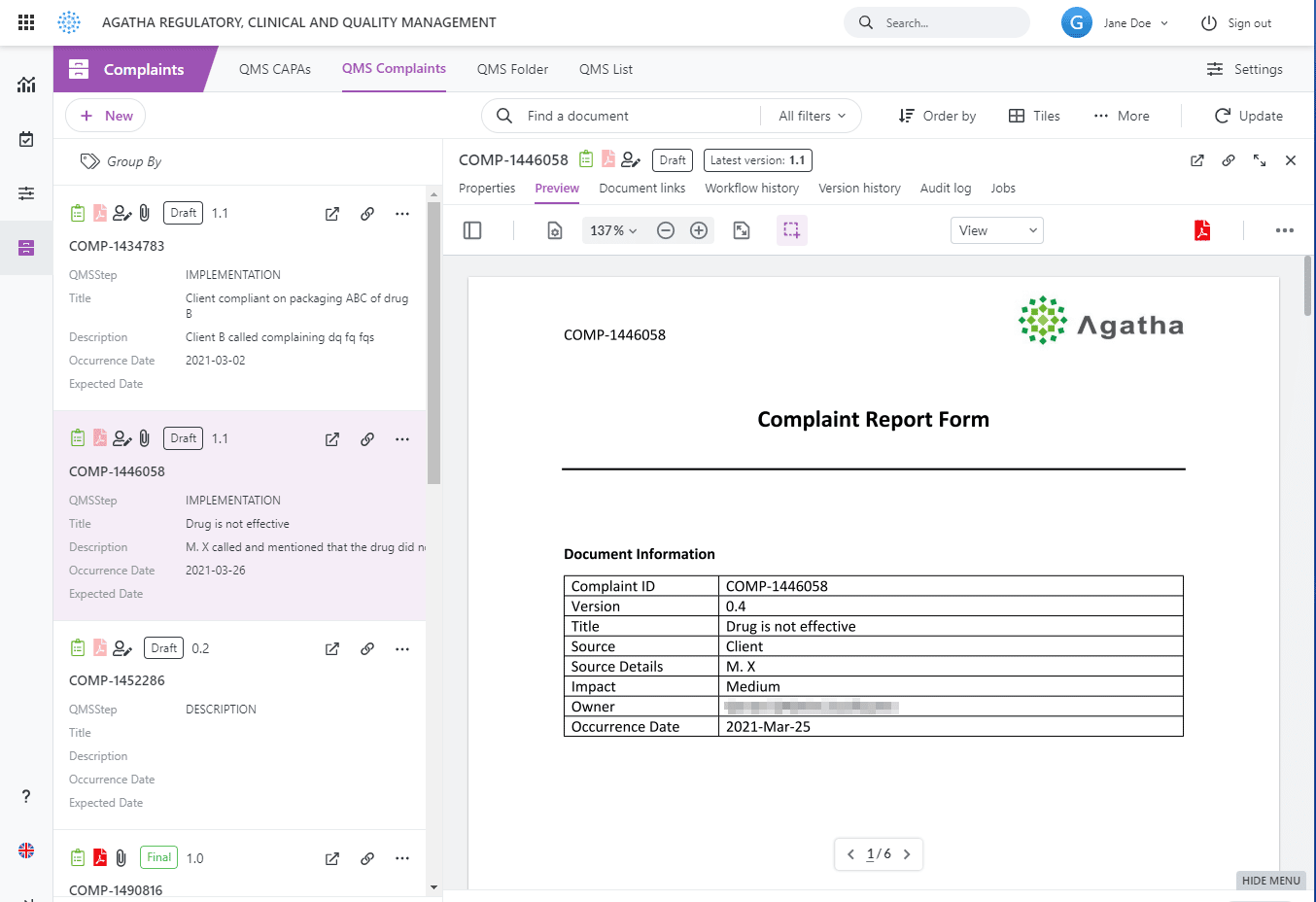 Get complete quality records with signatures and audit trails, ready for inspection. Agatha QMS is fully compliant with 21 CFR Part 11 and EU regulatory requirements.
Agatha's quality management application is also fully integrated with other Agatha applications making it easy to create references between them (eg. A CAPA can reference an SOP).
More Than An Online Record
QMS forms are built on a Word template. When the form is converted to PDF, it's more than a simple screenshot of the form on the page. Instead, you get a signed electronic record that is a nicely formated PDF.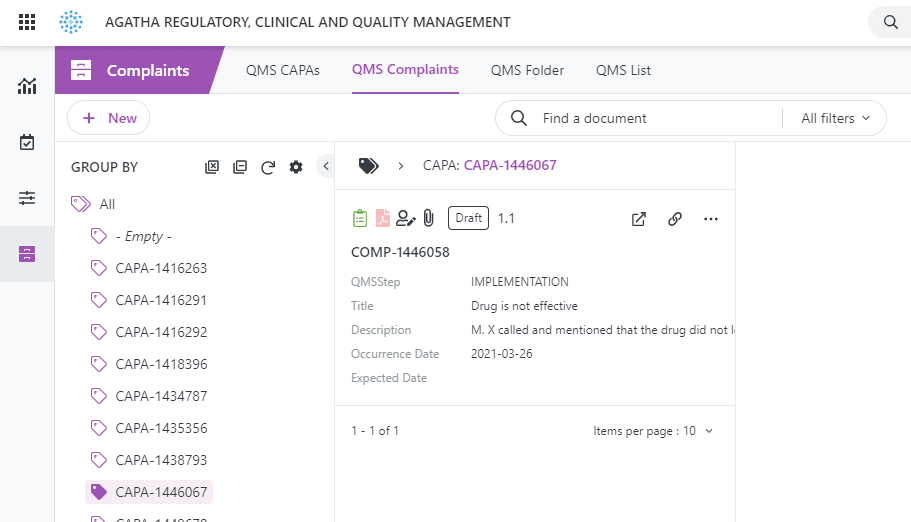 The best way to know if an Agatha Application meets your needs is to try it out. And good news – we offer a free trial.
You Get More with Agatha Quality
Basic Preview and Annotations
Preview and annotate PDF and Office documents, and image.
Advanced Integration Toolkit
Use Agatha's Rest API to allow applications to upload or export items from Agatha (includes documentation and sample code).
Cross Workspace Reporting
Create views and reports across workspaces and export results to Excel for dashboard reporting.
An End-to-End Process
A complete, closed-loop process captured in an expanding form, from initial issue to preventative action.
Inspection Ready
Create complete quality records with electronic signatures, recorded approvals, and audit trails, all ready for inspection.
Full Compliance
A validated system that is compliant with GxP requirements, EU regulations, and FDA 21 CFR Part 11.