Pharma QMS – Quality management system for pharmaceutical enterprises by Agatha
Every industry and discipline has unique quality management requirements and frameworks. That's why a generic quality management system that's not designed for the pharma companies isn't a good fit at all when addressing the requirements ( like the GMP or the GCP) of the pharmaceutical industry.
Choose a quality management system made with pharmaceuticals businesses in mind.
Agatha Quality helps pharma organizations ensure the quality of their products and meet their quality objectives, while also maintaining a comprehensive record of all events and activities related to their manufacturing process. It provides a single platform to cover all your compliance requirements; from validations to audit trails, to regulatory inspections and preventative actions, it can do it all.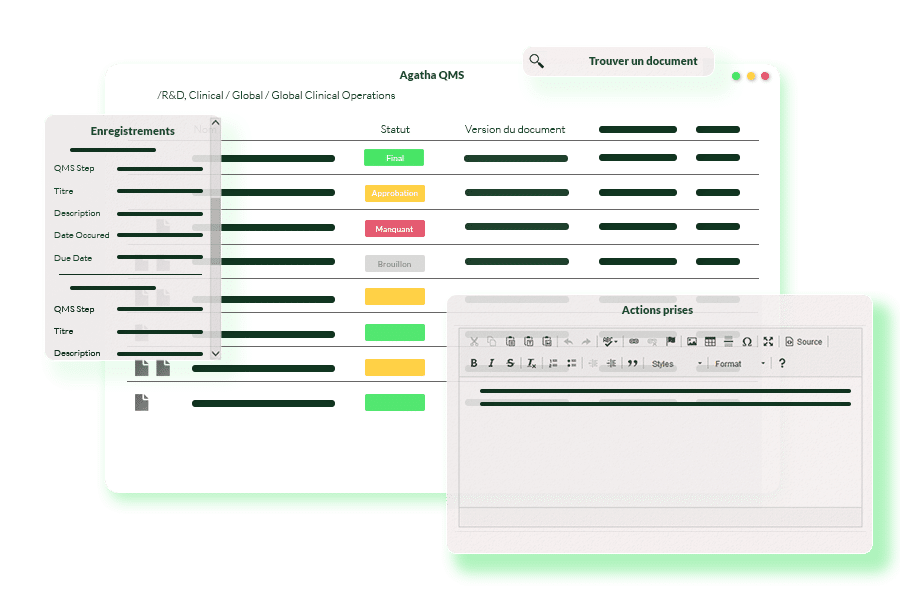 Improve Quality Control and Compliance with Our QMS for Pharmaceutical Companies
Pharmaceutical businesses must prioritize the quality of their products and services while also constantly complying with new regulatory requirements. Our Quality Management System (QMS) offers a complete solution for regulatory compliance, quality assurance, and continuous improvement and was created especially for the pharmaceutical industry.
Request a Free Trial to Experience the Benefits of Our QMS for Pharmaceutical Companies.
Trying out our QMS application is the best way to see if it meets your needs. We provide a free Agatha Quality trial so that pharmaceutical companies can examine all of its features and functionalities.
Integrated Quality Management for Healthcare Organizations
To make sure that pharmaceutical companies adhere to industry regulatory requirements, our QMS has a variety of procedures and practices in place, such as audit and inspection management. The document management system aids in the management of quality policies and procedures, the tracking of non-conformances and complaints, and the accurate preservation of all quality management-related activities and decisions. This is essential for presenting proof of good management practices.
Obtain Strong Insights to Promote Continuous Improvement
Our QMS offers insightful tools for continuous improvement, such as data analysis and corrective action planning, to pinpoint problem areas and make adjustments that can boost productivity and raise the caliber of our products and services over time.
Adaptable and User-Friendly to Meet Business Needs
Because we are aware that every pharmaceutical company is different, our QMS can be customized to satisfy any demands. Our team of experts is ready to offer training and support as needed, and the platform is simple to use and navigate.
Don't let problems with quality control and regulatory compliance of the life sciences industry hinder the development of your pharmaceutical business. Use our QMS to ensure the quality of your medical products and devices, comply with regulations, and go above and beyond what customers expect. Our system is intended to enhance quality operations and procedures, support quality assurance throughout your organization, and assist in achieving quality goals and objectives.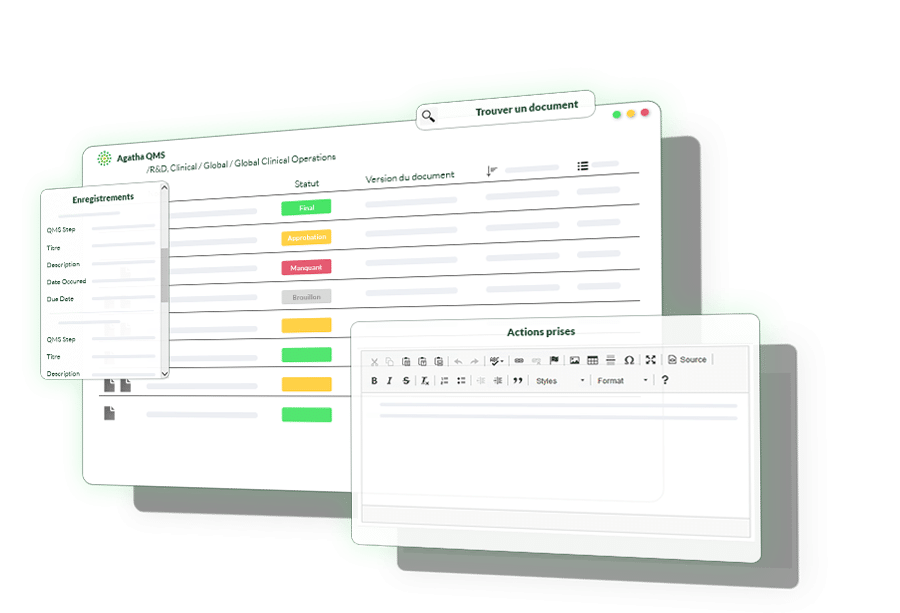 More Than An Online Record
QMS forms in Agatha can be converted to PDF at any point, resulting in an appropriately-format, signed electronic record.
Get More Out of Your Pharmaceutical Business with Agatha Quality
Streamlined Document Preview and Annotation
Preview and annotate PDFs, Office documents, and images in Agatha Quality's report form for an efficient and effective quality management process.
Advanced Integration Capabilities
Take advantage of Agatha's Rest API to allow seamless integration with other applications, with comprehensive documentation and sample code provided.
Cross-Workspace Reporting Functionality
Generate reports and views across workspaces and export the results to Excel for easy dashboard reporting.
 An Efficient End-to-End Quality Process 
Enjoy a complete, closed-loop quality process that captures every step of the process, from initial issue to preventative action.
Inspection-Ready Records 
Maintain complete, electronic quality records with signatures, approvals, and audit trails ready for inspections.
Guaranteed Compliance 
Rest assured that Agatha Quality is a validated system that complies with GxP requirements, EU regulations, and FDA 21 CFR Part 11, ensuring full regulatory compliance for your pharmaceutical business.
Learn more about Agatha Quality and our Pharma QMS
What is a clinical quality management system?
A clinical quality management system (CQMS) is a software application used for quality monitoring during clinical research by pharmaceutical companies and the life sciences industry. Clinical research requires a QMS, as a well-designed clinical quality management system will help ensure that all procedures, processes, protocols, documents, etc., that occur throughout the entire course of a clinical study are managed effectively and audited for quality.
How can Agatha's QMS benefit pharma companies?
With the assistance of a clinical QMS, a organization operating in the pharmaceutical segment of the healthcare industry will be able to implement the applicable regulatory standards, concepts, and methodologies needed to achieve the goals of clinical research.
QMS applications like Agatha Quality also play an important role in keeping clinical research compliant with regulatory requirements by international regulatory agencies, such as Good Clinical Practices (GCP), the European Medicines Agency (EMA), and the US Food and Drug Administration (FDA), and others.
What are the advantages of a clinical QMS?
Improved patient and consumer safety
A clinical QMS generates reliable data that an organization, its partners, regulatory and healthcare authorities, and other stakeholders can use for monitoring and improving clinical products and the lives of patients. Using a clinical QMS such as Agatha Quality gives clinical trial participants and end users of the results of clinical research the assurance that medications/treatments that they receive were developed using proper research.
Guaranteed regulatory compli­ance throughout the research process
Managing quality through a central application ensures regulatory compliance during the entire clinical trial process. This risk mitigation will include first-in-human studies to post-marketing surveillance of new pharmaceutical products.
Improved clinical research quality management
Reduce or eliminate repetitive quality issues during clinical studies such as unintentional non-compliance, insufficient staff training, insufficient supervision by management, lack of protocol clarity, and insufficient quality control in the collection and recording of data threatening patient safety/data integrity.
Agatha Quality clinical QMS offers a strong organizational structure to help pharmaceutical businesses systematically improve the overall performance of their clinical research, accomplish their quality control and training goals and complete clinical trials efficiently.
Proactive approach to quality assurance
A reactive approach is not enough for a quality management software (CQMS): good risk management practices are essential. Proactively managing clinical quality with a well-designed CQMS instead of reacting to issues related to investigational products when they occur avoids wasting valuable time and resources.
What are regulatory requirements for drug development and clinical studies?
The main regulatory requirements for any project of clinical research or clinical investigation conducted by an organization are:
Good clinical practice (GCP)
"Good Clinical Practice (GCP) is an international ethical and scientific quality standard for designing, conducting, recording, and reporting trials that involve the participation of human subjects. Compliance with this standard provides public assurance that the rights, safety, and well-being of trial subjects are protected, consistent with the principles that have their origin in the Declaration of Helsinki, and that the clinical trial data are credible.
The objective of this ICH GCP Guideline is to provide a unified standard for the European Union (EU), Japan, and the United States to facilitate the mutual acceptance of clinical data by the regulatory authorities in these jurisdictions.
The guideline was developed with consideration of the current good clinical practices of the European Union, Japan, and the United States, as well as those of Australia, Canada, the Nordic countries and the World Health Organization (WHO)."
ISO 14155:2020
The ISO 14155:2020 "specifies general requirements intended to:
protect the rights, safety and well-being of human subjects,
ensure the scientific conduct of the clinical investigation and the credibility of the clinical investigation results,
define the responsibilities of the sponsor and principal investigator, and
assist sponsors, investigators, ethics committees, regulatory authorities and other bodies involved in the conformity assessment of medical devices."
European Medicines Agency clinical trials regulation
Regulation (EU) No 536/2014 states that:
"In a clinical trial the rights, safety, dignity, and well-being of subjects should be protected and the data generated should be reliable and robust. The interests of the subjects should always take priority over all other interests."
What are the main elements of a clinical QMS?
The core elements of an effective digital quality strategy involve the following elements:
Processes;

Resources;

Roles and responsibilities;

Partnering;

Risk management;

Issue management;

Knowledge management;

Documentation that supports achieving quality;
Glossary
efficiency, modules, departments, analytics, markets, supply chain, impact, regulatory bodies, pharmaceutical quality management software, risk management activities, training management, management system software, compliance issues, compliance processes, Customer complaints, customer satisfaction, electronic records, training records, business process
corrective actions, erp, customer requirements, quality improvement, quality management software, quality assurance, enterprise resource planning, work flow, cloud based, cloud, supply chain management, quality standards, paperless, customer management, requirements, supply chain, reliability, analyses, product lifecycle, quality, traceability, inspections, quality system, ease of use
life science organizations, pharmaceutical organizations, faster decisions, product quality, key requirements, operational efficiencies, integrated modules, manufacturing practice, process mapping, Access control, centralized location, human errors, internet connection, operational excellence, pharmaceutical vertical, external audits, comprehensive solution, analytics, markets