Agatha Clinical (eTMF) – eTMF Clinical Trial Software
Connect sponsors, CRO staff, and site resources with automated processes for creating, managing, and tracking the Trial Master File (TMF). 
Choose a powerful eTMF solution for your organizations clinical trials
Ensure every essential document is accounted for with a complete eTMF solution. You can be certain that the set of essential documents you need for every site and study is present and ready for inspection. Advanced placeholder technology guarantees quick and reliable identification of missing documents.
Agatha is designed around several key regulatory requirements, including 21 CFR Part 11, and all Agatha applications are hosted in a highly secure and reliant, high-performance and prevalidated cloud environment.
Guarantee that all essential documents include all required elements such as digital signatures and audit trails for inspectors. Designate documents for quality checks and track the quality review process using custom views.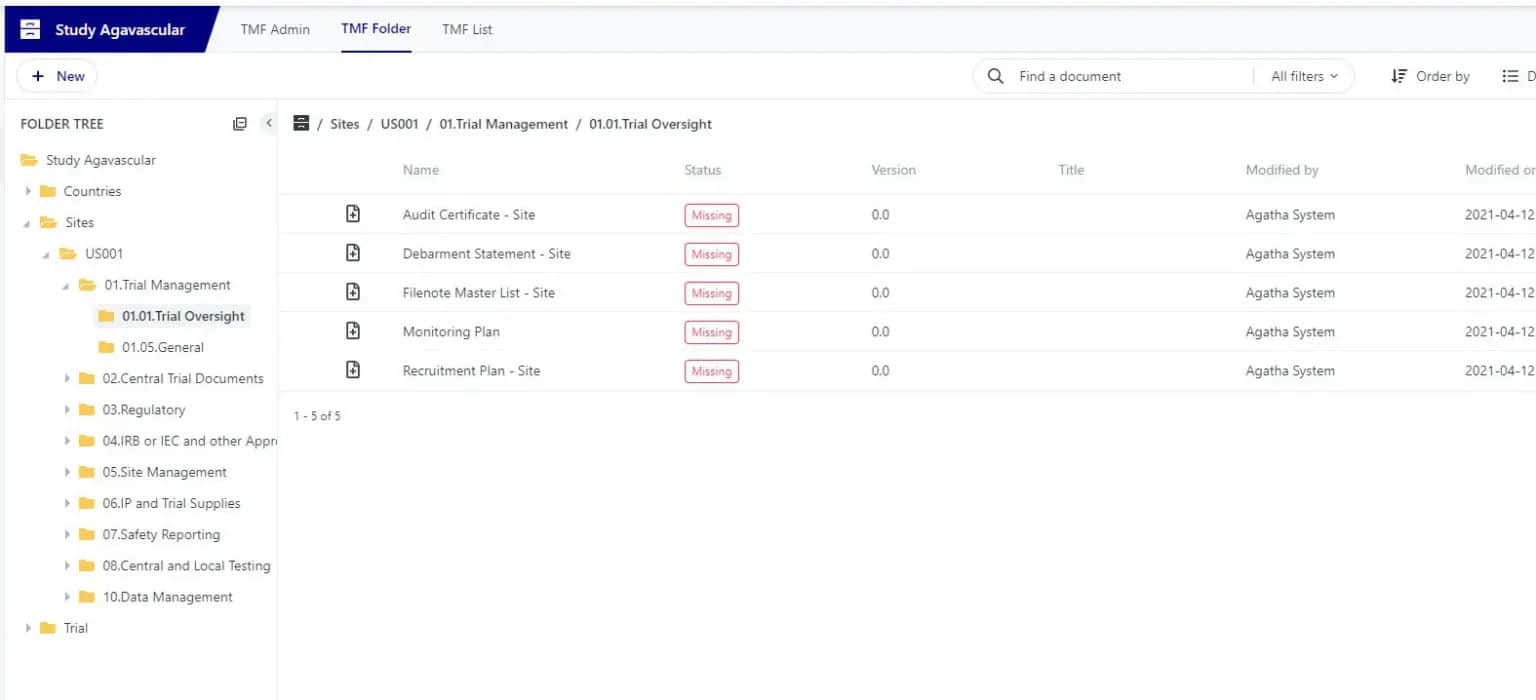 Managing Clinical Trials is Complex – Use the right eTMF clinical trial software
Maintaining a TMF is a challenging activity – Make it easy with an eTMF
Clinical trials are complex projects. You are working with many participants, each with different responsibilities and working in different locations. That complexity is amplified by the process itself, which includes extensive document creation, review, and approval steps. You need a better strategy than using paper binders and processes managed through spreadsheets to maintain your clinical documents. You need an eTMF (electronic trial master file) application to guarantee document quality.
Agatha's eTMF applications can help you optimize your clinical trial documentation
Agatha Clinical is an electronic trial master file (eTMF) application that connects all trial participants and processes in a single, cloud-based application. Leveraging the TMF Reference Model, Agatha Clinical includes standard templates to help you get up and running quickly, reducing ramp-up time to hours and days instead of weeks or months.
With configurable actions that allow you to capture processes in end-to-end workflows, Agatha Clinical provides a tool to enforce best practices, document all activities, and connect all study participants. The result is faster start-up, more consistent processes, and complete trial documentation ready for inspection at any time.
Choose an up to standards classification and inspection readiness with Agatha Life

"The decision to move to an electronic TMF and move its management in-house was the right decision for us. With Agatha's help, we were able to configure an eTMF application that supports our needs today and can adapt with us as our processes evolve."
How does Agatha's eTMF Support Your Clinical Trials?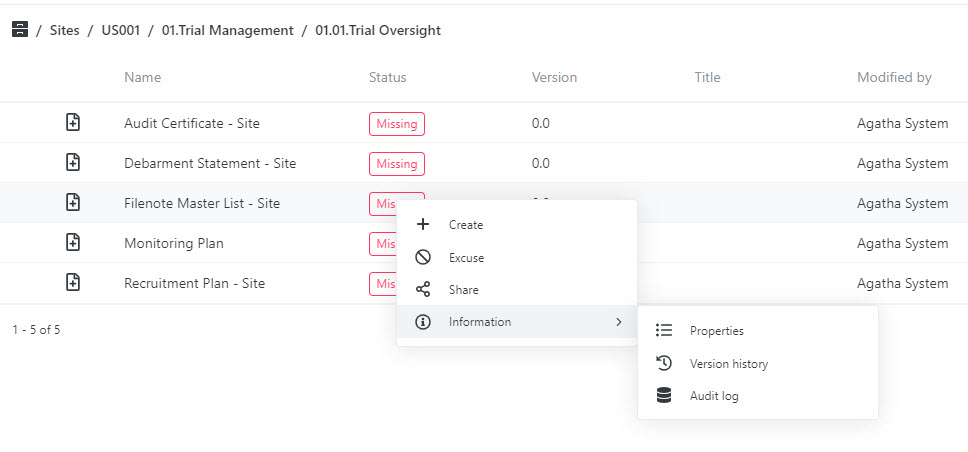 Create and Manage Sites & Clinical trial content
Forget paper documents: create and manage new TMF files based on the TMF Reference Model. Combine documents and forms to accelerate study processes.
Ensure you have access to the right documentation through the whole trial lifecycle
Access Workspaces and Tasks in the Dashboard
View all clinical trials in the dashboard and quickly see and access tasks assigned to you. Use the configurable views to inspect, verify, and identify gaps in the expected eTMF content at any time.
Access up to date, reliable information securely from anywhere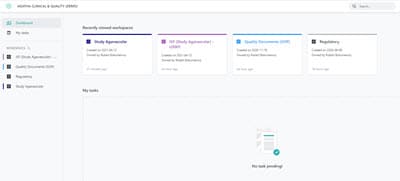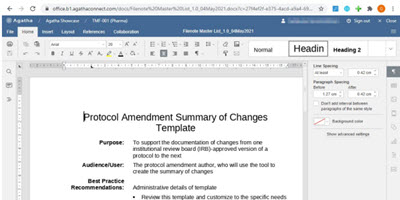 Author and Edit Documents Directly in the Electronic Trial Master File
Co-Author and edit Microsoft Word, Excel, and PowerPoint files directly in the application, without the need for Microsoft Office.
Benefit from real-time visibility of all clinical trial documentation
Ensure Quality Checks Are Completed
Designate documents for quality checks and track the quality review process using custom views.
Quality checks for content created by all clinical trial stakeholders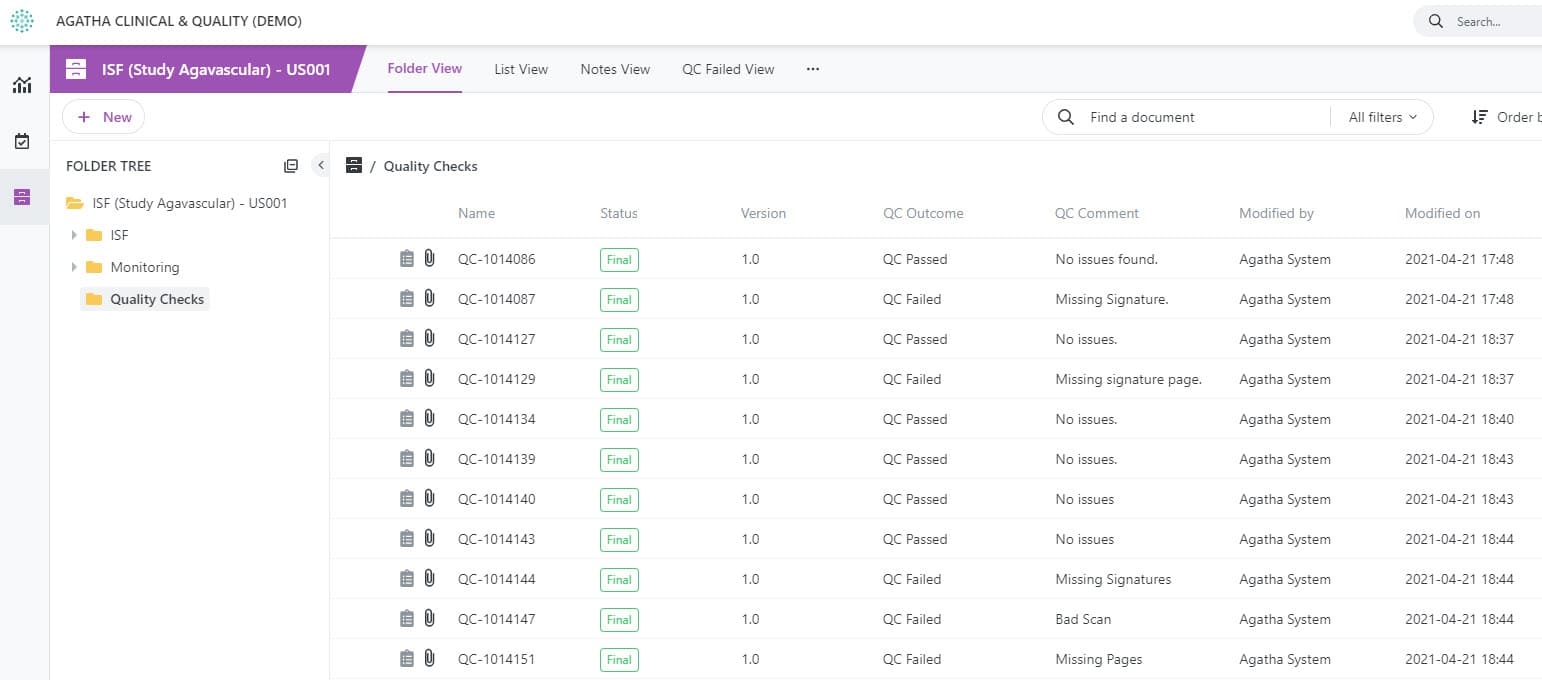 Ensure compliance to requirements of regulatory agencies
eTMF software ensures your clinical trial documentation from all clinical trial stakeholders is compliant with regulatory requirements. Monitor that all essential documents include all required elements such as digital signatures and audit trails for inspectors.
 Ensure regulatory compliance by keeping your documents inspection ready
The best way to know if an Agatha Application meets your needs is to try it out. And good news – we offer a free trial.
You Get More with Agatha's Clinical eTMF
Custom Forms and Rendering
Leverage forms to drive processes based on metadata and use metadata to generate renditions.
Basic Preview and Annotations
Preview and annotate PDF, Office documents and images.
Cross Workspace Reporting
Create views and reports across workspaces and export results to Excel for dashboard reporting.
Extended Template Sets
Collect feedback from sites with Post Market Surveys and collect consent documents with Informed Consent.
Advanced Policy and Access Management
Manage policies, associated roles, and access control easily.
Advanced Integration Toolkit
Use Agatha's Rest API to allow applications to upload or export items from Agatha (includes documentation and sample code).
It's 
NO MYSTERY
 why everyday, more than 200 companies use 
AGATHA
 to manage and track their clinical studies.





Request a free trial of our eTMF solution
Discover how Agatha Life's eClinical systems can improve your efficiency and streamline your daily operations through a free trial.
Learn more about Agatha Life's eTMF and its applications
What is an eTMF?
The eTMF stands for Electronic Trial Master File. A life sciences company whose effectiveness is dependent on the quality of the trial master file stands to gain so much by managing a TMF electronically. An eTMF with user-friendly features like simplicity of navigation and inclusion of labels in place of written paragraphs can improve clinical trial speed and efficiency significantly. If a company follows detailed policies for the use of the TMF, they can visualize the progress of trial design with ease. Collaborating with a regulatory safety agency and working in conjunction with FDA filing requirements amplify the importance of this file.
What are the benefits of an eTMF for clinical research?
Having a reliable eTMF is essential for successful pharmaceutical companies
1. Once an eTMF is set up, it can be reused indefinitely
Knowing your specific regulatory study design helps writers to create a structured template and structure for your study documents. Templates, which use a familiar pattern, allow automation of the study templates. Entire study templates can be easily reused to support future studies. Thus, being well structured in your regulatory documents helps writers effectively collect necessary documents for the clinical trials.
2. Benefit from easy remote collaboration & data collection
With an eTMF, you can increase the performance of your TMF network, share lessons learned, and avoid duplicate info being uploaded via different channels. Agatha's eTMF allows the study team to collaborate on the full life cycle of TMF management, from setup to archival. Documents can be uploaded by trusted users from any location. Desktop-based documents that are stored at the project home site can also be automatically uploaded in an Integrated Data Services file, accelerating each interaction with data.
3. Secure online data storage
The use of reliable and efficient eTMF software allows for paperless offices, where hard copies are replaced with electronic files stored as part of a complete,  electronic TMF. And eTMFs — which can be password-protected to provide secure storage of your employees' documents — store files in a secure and reliable manner while providing easy access to data to different research teams.
4. Track progress easily
Clinical trial programs that protect data security and which are better at coordinating processes can minimize the barriers to adoption that many systems create. Being equipped to work in real-time on the documents required by trials can reduce the organizational burden of keeping up. An integrated, real-time tracking system gives people pertinent information when needed, wherever needed.
5. Guarantee compliance to 21 CFR part 11
Agatha's eTMF provides systems and controls for compliance, such as audit trail, user account controls, archival policy and electronic signatures, as well as quality control tools. It uses process driven workflows for collect, store, share and synchronize data.