QMS software for medical devices – Choose Agatha as you quality management system for medical devices
Choose a QMS software tailored to medical device manufacturer's needs
At Agatha, we are aware of the particular quality management frameworks and requirements of the life sciences sector. Clinical and compliance professionals in pharmaceutical, biotechnology, and medical device companies are the target audience for our QMS.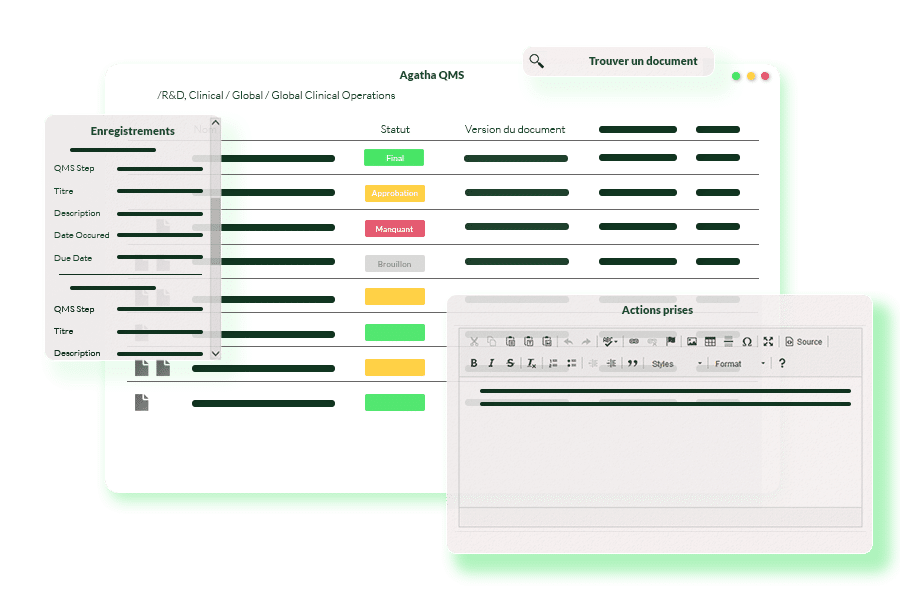 How is Agatha Quality built to help you succeed in the Medical Devices business
The quality management system (QMS) is built to assist manufacturers of medical devices in their daily operations, enabling them to efficiently manage the lifecycle of their products and continuously enhance product quality. Our software tools and quality management system are specially created to satisfy the needs of the manufacturer as well as the requirements of international standards and regulatory compliance. Agatha Quality has a number of features that help guarantee that the manufacturer's quality goals are met, including design control, document control processes and management system requirements.
It is simple to stay current with the most recent requirements for quality systems thanks to our QMS's integrated corrective action and current version tracking features. Medical device manufacturers can confidently launch their products on the market by streamlining their quality management procedures with our device quality management software. Agatha Quality will give you the tools you need to satisfy customer needs, have a successful product to market launch and abide by domestic and international regulations. Our software also facilitates the management of service reports and boosts employees productivity.
Why shouldn't you use a standard QMS?
Agatha Quality, in contrast to standard QMS, was created especially for the pharmaceutical industry and its special requirements and activities. This makes it more appropriate for manufacturers of medical devices because it addresses the GMP and GCP requirements unique to this sector. Our QMS covers every facet of medical device quality management, from product lifecycle management and device quality management systems to continuous quality improvement and legal compliance.
A thorough set of quality management procedures, software options, and a quality policy are also offered by Agatha Quality to guarantee a successful and timely product launch. The medical device manufacturers and their employees  are perfectly suited to our QMS thanks to this tailored approach, which also equips them with the tools they need to adhere to customer requirements and international regulations.
How can our QMS benefit your medical devices company?
As a company that manufactures medical devices, you must constantly meet new regulatory requirements and ensure the quality of your goods and services. Our Quality Management System (QMS) is the ideal choice for your company because of this. The QMS offers a comprehensive platform for compliance, quality assurance, and continuous improvement and is specifically created for the medical device industry.
To guarantee your compliance with industry regulatory requirements, our QMS includes a variety of procedures and techniques, such as audit management and inspection management. It also comes with a document management system that enables you to keep thorough records of all your actions and choices pertaining to quality management. This is crucial for demonstrating your quality management procedures and methods.
It gives you valuable insight
Powerful tools for continuous improvement are part of our QMS, including data analysis and corrective action planning. This enables you to spot areas for development and make adjustments that will help you maintain your competitiveness and raise the caliber of your goods and services over time.
It's adaptable and user-friendly
Our QMS can be modified to meet your unique needs and specifications. Our platform is user-friendly and simple to use because we recognise that every medical device company is different. If you run into any problems, our team of experts is always available to help with training and support.
Stop letting issues with compliance and quality control hold you back. Put our quality management system into practice and watch your medical device business flourish. You can guarantee the quality of your medical products and devices with our QMS, comply with legal requirements, and outperform client expectations. Our QMS is made to support quality assurance throughout your organization, help you meet your quality goals and objectives, and enhance your quality operations and procedures.
A QMS for medical devices and Life Sciences
Effectively managing clinical, compliance and quality processes and protocols is a mission-critical task at life sciences companies. Quality improvements accelerate trials and improve the results of clinical studies, while quality failures can result in huge delays, added costs and major disruptions. Choosing the right solution for monitoring and managing quality processes in clinical trials and pharmaceutical manufacturing is a critical decision. It's time to look at Agatha Quality as the foundation of quality for your ClinOps and GMP program.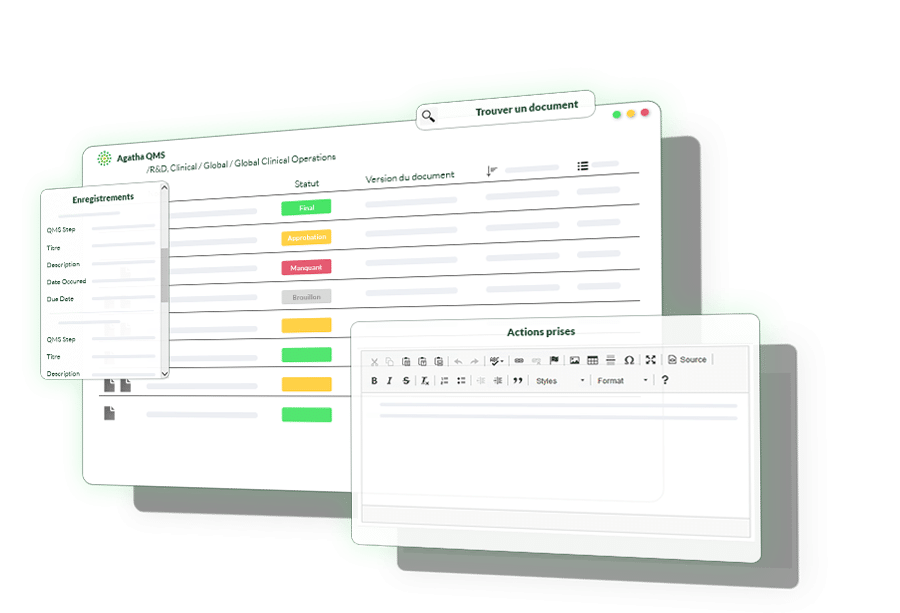 Agatha Quality (QMS) is a complete, ready-to-use quality management application for capturing deviations, documenting corrective and preventive actions (CAPAs), and managing change control processes during a clinical research project. Most vendors provide quality management forms that are targeted towards "widget" manufacturing, but Agatha QMS is focused on the key forms needed for ClinOps and life sciences GMP environments.
Risk-based monitoring and quality system
More than document management, QMS is an end-to-end quality management system. Combining forms, framework, documents, and workflows, Agatha QMS comprises a complete toolset for quality managers, preconfigured, validated, and ready-to-use but easy to adapt to specific process requirements.
How Agatha Quality supports compliance for medical devices
Advanced Forms
Work with ready-to-use standard forms and processes, or adapt them to support your needs. Forms include rich text fields that allow the addition of images and formatted text. Use the form designer to update the look and framework of your forms.
A dynamic, multipart form supports all steps in a process from deviation to change control, adding appropriate sections based on information provided at each stage. Reviews, approvals, and assignments for actions are also built-in to help businesses reach their quality objectives.
Complete Metrics and Reporting
Get all the reporting you need with built-in dashboards and reports, generate custom reports and export any report to Excel or a generic CSV format.
Cross Workspace Reporting: You can also create views and reports across workspaces and export results to Excel for dashboard reports.
Complete Records
Get complete quality records with signatures and audit trails, ready for inspection. Agatha QMS is fully compliant with 21 CFR Part 11 and EU regulatory requirements.
Agatha's quality management application is also fully integrated with other Agatha applications, making it easy to create references between them (eg. A CAPA can reference an SOP).
More Than An Online Record
QMS forms in Agatha can be converted to PDF at any point, resulting in an appropriately-format, signed electronic record.
Medical device manufacturers get more with Agatha Quality
Basic Preview and Annotations
Preview and annotate PDF and Office documents, and images in Agatha Quality's report form.
Advanced Integration Toolkit
Use Agatha's Rest API to allow applications to upload or export items from Agatha (includes documentation and sample code).
Cross Workspace Reporting
Create views and reports across workspaces and export results to Excel for dashboard reporting.
An End-to-End Process
A complete, closed-loop process captured in an expanding form, from initial issue to preventative action.
Inspection Ready
Create complete quality records with electronic signatures, recorded approvals, and audit trails, all ready for inspection.
Full Compliance
A validated system that is compliant with GxP requirements, EU regulations, and FDA 21 CFR Part 11.
Learn more about Agatha Quality and clinical quality management systems
What is a clinical quality management system?
A clinical quality management system (CQMS) is a software application used for quality monitoring during clinical research by pharmaceutical companies. Clinical research requires a QMS, as a well-designed clinical quality management system will help ensure that all procedures, processes, protocols, documents, etc., that occur throughout the entire course of a clinical study are managed effectively and audited for quality.
What is a QMS software for medical devices?
A medical device quality management system (QMS) is an organized set of protocols and practices that address all facets of design, production, supplier management, risk management, complaint handling, clinical data, storage, distribution, product labeling, and more. A QMS is necessary for the majority of medical devices; the intricacy of the QMS will vary depending on the device's classification. This is why it is essential for organizations developing medical devices to use a quality management system tailored to their needs.
With the assistance of a clinical QMS, a medical devices company operating in the healthcare industry will be able to implement the applicable regulatory standards, concepts, and methodologies needed to achieve the goals of clinical research.
QMS applications like Agatha Quality also play an important role in keeping clinical research compliant with regulatory requirements by international regulatory bodies, such as Good Clinical Practices (GCP), the European Medicines Agency (EMA), and the US Food and Drug Administration (FDA), and others.
What are the advantages of a clinical QMS?
Improved patient and consumer safety
A clinical QMS generates reliable data that an organization, its partners, regulatory and healthcare authorities, and other stakeholders can use for monitoring and improving clinical products and the lives of patients. Using a clinical QMS such as Agatha Quality gives clinical trial participants and end users of the results of clinical research the assurance that medications/treatments that they receive were developed using proper research.
Guaranteed regulatory compli­ance throughout the research process
Managing quality through a central application ensures regulatory compliance during the entire clinical trial process. This risk mitigation will include first-in-human studies to post-marketing surveillance of new pharmaceutical products.
Improved clinical research quality management
Reduce or eliminate repetitive quality issues during clinical studies such as unintentional non-compliance, insufficient staff training, insufficient supervision by management, lack of protocol clarity, and insufficient quality control in the collection and recording of data threatening patient safety/data integrity.
Agatha Quality clinical QMS offers a strong organizational structure to help pharmaceutical businesses systematically improve the overall performance of their clinical research, accomplish their quality control and training goals and complete clinical trials efficiently.
Proactive approach to quality assurance
A reactive approach is not enough for a quality management software (CQMS): good risk management practices are essential. Proactively managing clinical quality with a well-designed CQMS instead of reacting to issues related to investigational products when they occur avoids wasting valuable time and resources.
What are regulatory requirements for medical device manufacturers?
It is essential for producers of medical devices to follow good quality management procedures to ensure high levels of control, paying special attention to the risk management system that has recently undergone further revision (ISO 13485:2016). Setting up a QMS is now necessary to meet the conformity standards of the medical device industry in the United States.
What are the main elements of a clinical QMS?
The core elements of an effective digital quality strategy involve the following elements:
Processes;
Resources;
Roles and responsibilities;
Partnering;
Risk management;
Issue management;
Knowledge management;
Documentation that supports achieving quality;