Maximize SOP management with our superior software clinical SOP software solution
Empower your team's training efforts and ensure robust compliance with AgathaLife's Clinical SOP management software. Our ready-to-use solution revolutionizes the authoring, approval, management, and publishing of Standard Operating Procedures (SOPs), enabling your team to concentrate on the crux of successful clinical research.
Ready to upgrade your SOP management?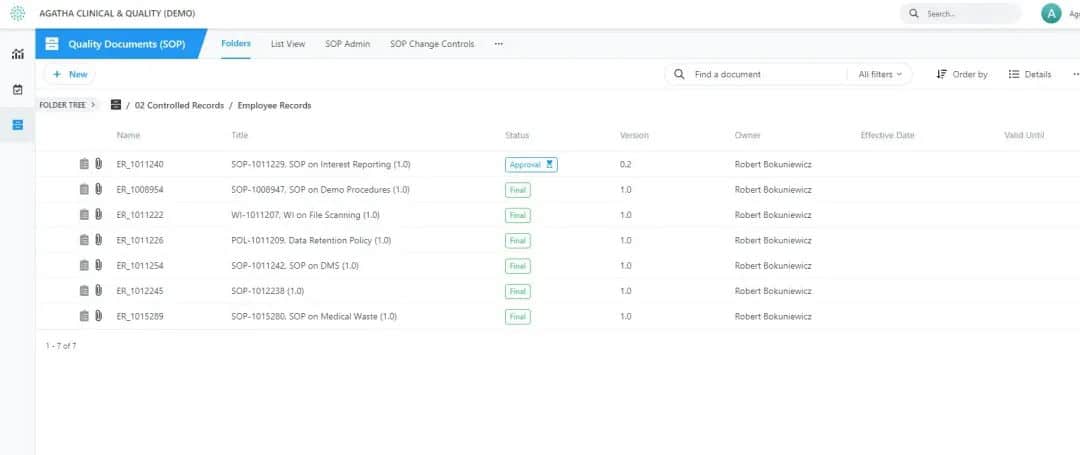 Optimize Compliance and Employee Performance with Our Clinical SOP Digital Solution
Standard Policies are at the heart of every Quality Operation
Standard Operating Procedures (SOPs) and employee training documents are crucial to effective business operations, ensuring compliance with regulatory requirements during clinical trials. Managing both SOPs and employee records in one application simplifies the process and enhances overall job performance. This is where Agatha's SOP management software comes into play.
Step up your clinical SOPs
Manage SOPs and Employee Records to Maximize Quality Control
Our clinical SOP management software is a cloud-based application that lets you seamlessly track SOP compliance and employee training activities. This software solution comes equipped with a standard set of templates and review and approval processes, providing you with the control to configure the application according to your clinical trials' specific requirements.
Standardize Your Clinical Operations with Agatha's SOP Management Software
Agatha's SOP software provides audit records, documented changes, and electronic signatures to ensure full compliance with regulatory guidelines and readiness for inspection. By delivering actionable insights, it enhances both individual employee performance and overall business operation.
Enhancing Operational Standards with Agatha's SOP Management for Clinical Trials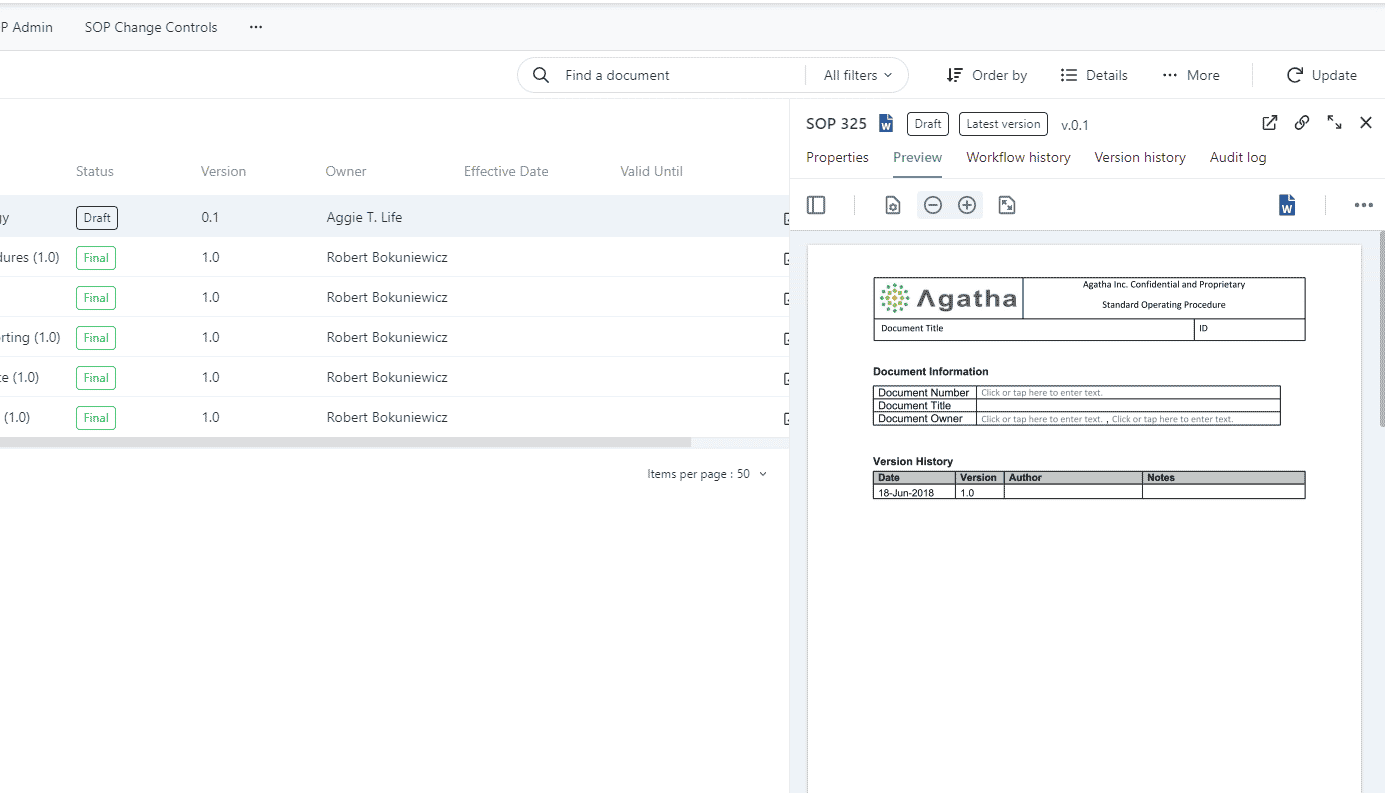 Initiate with Standard Operating Procedure (SOP) templates
Commence with Clinical SOP Management Templates Assemble and execute comprehensive policies using our step-by-step Clinical SOP templates. Trigger systematic reviews automatically to ensure up-to-date training activities and thorough documentation in accordance with your clinical research trials.
Review, approve and operate SOPs with clinical SOP management
Control and monitor procedures for the creation, review, and approval of SOPs with our easy-to-modify workflows. Sustain previous versions of all SOPs, thereby operating an efficient checklist and audit trails that capture every single change, fortifying against any adverse events.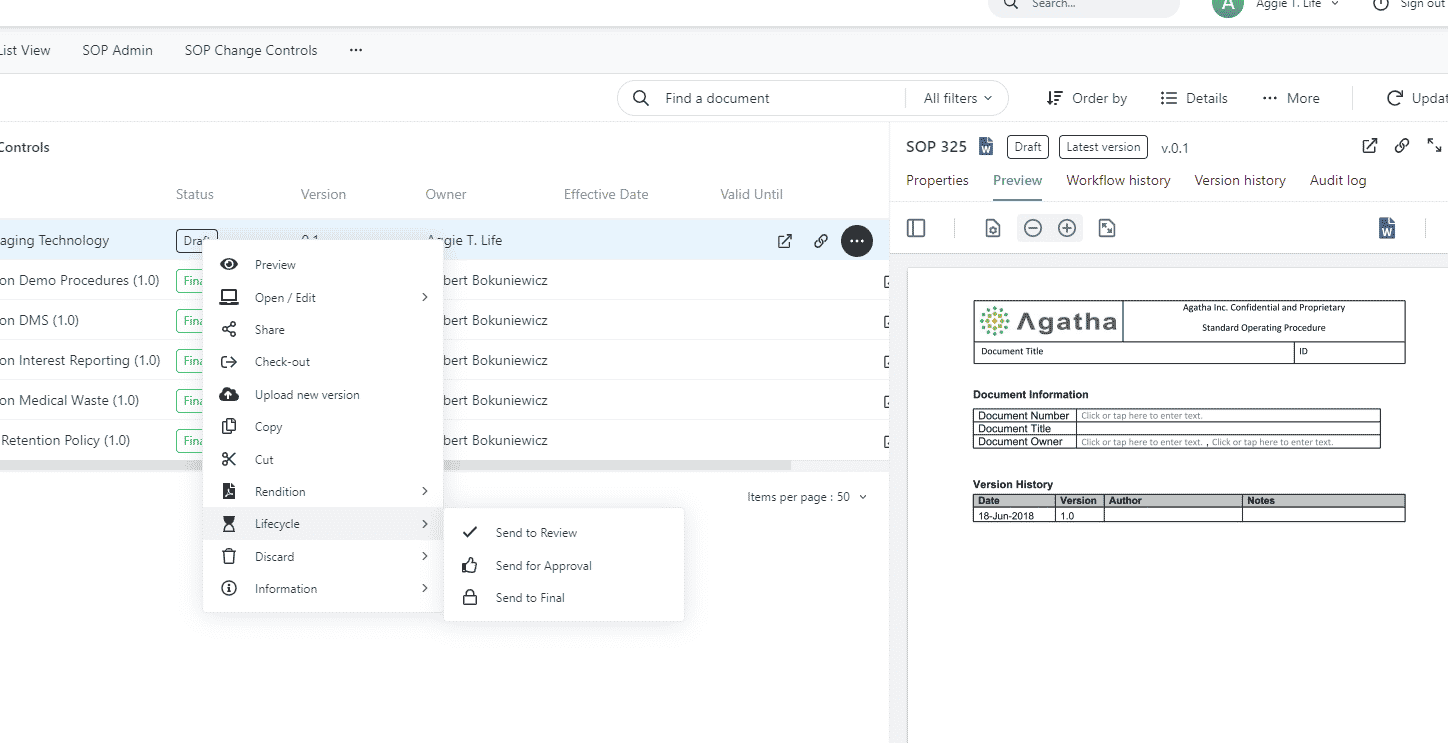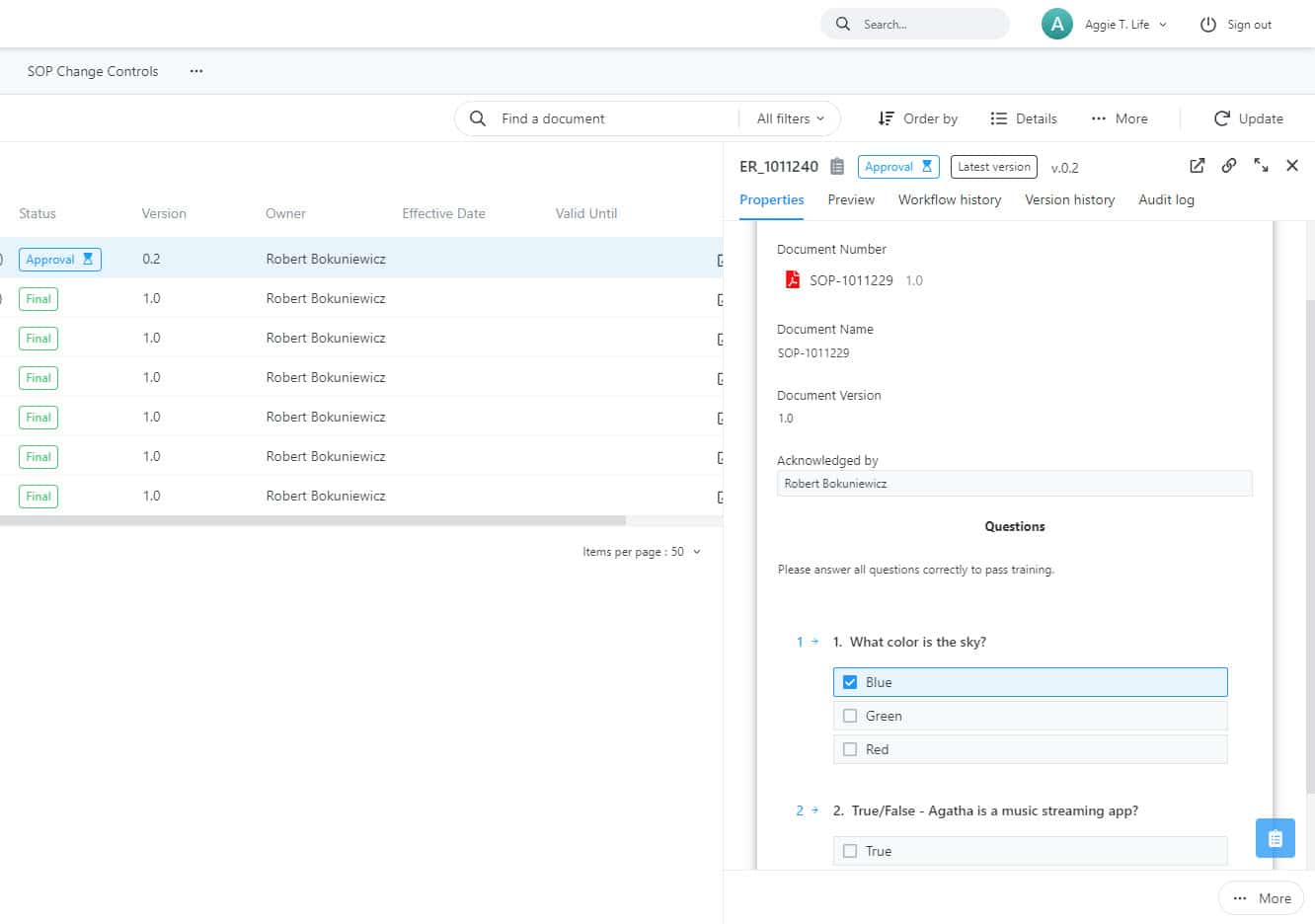 Monitor SOP compliance with clinical SOP management
Monitor Your Team's SOP Compliance Oversee employee SOP compliance and training activities with a variety of resources such as documents, presentations, and videos. Mandate successful completion of quizzes to confirm understanding of new processes. Regularly verify SOP compliance of responsible individuals to ensure consistent training.
Controlled print – Clinical SOP management for paper copies
Guarantee the proper management of paper copies, ensuring compliance with company quality standards.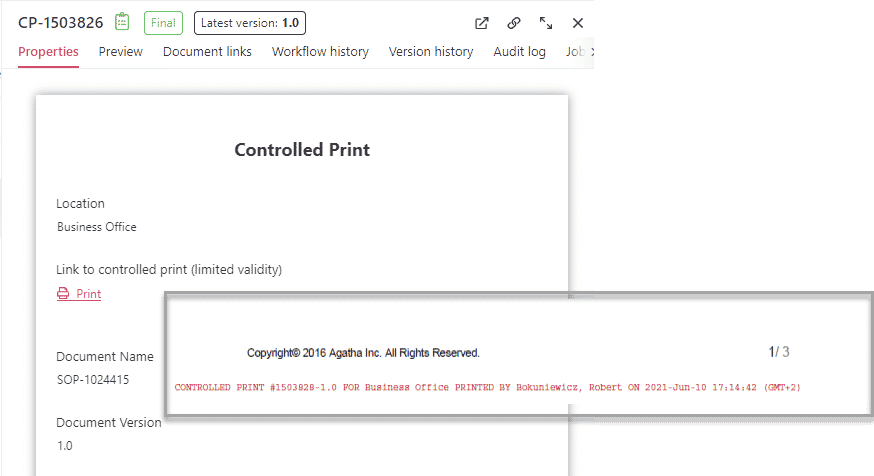 The most effective method to determine if Agatha's clinical SOP management software fits your requirements is to experience it first-hand. Fortunately, we offer a complimentary trial period for your convenience
Experience Agatha's clinical SOP management
Maximize your business activities and see for yourself if Agatha's Clinical SOP Management meets your needs with our free trial.
Maximize efficiency with Agatha's Clinical SOP Management Custom Forms and Rendering 
Leverage forms to drive processes based on metadata and use metadata to generate renditions. Ensure consistent data structures (unit title, sections headers, consistent font size).
Basic preview and annotations 
Preview and annotate PDF and Office documents, and images. Our standard operating procedure software features enable you to manage and control your documentation, creating a single source of truth for your team.
Cross workspace reporting 
Create views and reports across workspaces and export results to Excel for dashboard reporting, delivering actionable insights and a comprehensive overview of job performance.
Secure cloud in clinical SOP management 
Hosted in a highly secure, compliant cloud service that caters to the needs of the most security-sensitive customers, promoting a safe working environment.
Easy audit preparation 
Simplify audit preparation with complete SOP documents, accurate training records, and specialized views and reports for inspectors, ensuring regulatory compliance.
Advanced integration toolkit 
Utilize Agatha's Rest API to allow applications to upload or export items from Agatha (includes documentation and sample code).
Our Clinical SOP Management software is your business tool, your source of truth, streamlining day-to-day business processes, and improving compliance efforts. Enhance the performance of individual employees and your overall business operations, realizing the benefits of a well-structured business practice.
Ready to upgrade your SOP management?
Learn more about SOP management and our clinical SOP
What is SOP in Management?
SOP, or Standard Operating Procedure, in management, refers to a set of detailed SOP documents or instructions designed to guide the execution of routine operations. It ensures compliance with regulations and sets compliance expectations for every team member, from the management team to client services teams.
What are the 4 components of SOP?
The four key components of SOP include the purpose, procedure, roles and responsibilities, and the document management system. The purpose establishes compliance expectations; the procedure outlines detailed steps for compliance with the approval process; roles define individual and team responsibilities, and the document management system ensures control of processes.
What does SOP mean in leadership?
In leadership, SOP refers to a strategy for standardizing practices and ensuring the team follows the same procedures to achieve excellent performance. It guides actions, ties actions to performance reviews, and helps maintain approval process control.
What does SOP stand for in HR?
In Human Resources, SOP stands for Standard Operating Procedure. It provides detailed steps for various processes, from functionality for recruitment teams to handling internal documents, thereby streamlining HR operations.
What does SOP stand on?
SOP stands on a commitment to consistency, efficiency, and compliance with regulations. It provides the actual version control for procedures through document management software, thereby preventing discrepancies between teams.
What are the roles and responsibilities of SOP?
The SOP's role is to standardize processes, improve performance, and ensure compliance with the approval process. It details responsibilities for every team member and provides access control, thereby maintaining operational efficiency.
Why are SOPs important in an organization?
SOPs are crucial in organizations to ensure that processes are performed efficiently and consistently. They set compliance expectations, promote employee SOP compliance, and provide a means for additional training and contextual training.
What is a SOP example?
A SOP example could be a document outlining client onboarding documents' preparation and distribution process in an organization. It provides a clear procedure, from document tagging to distribution, ensuring all client services teams follow the same process.
What is clinical SOP?
Clinical SOP refers to Standard Operating Procedures used in clinical research or healthcare settings. They ensure employee SOP compliance with regulations pertaining to patient care, clinical trials, and more.
What is SOP in a clinical laboratory?
In a clinical laboratory, SOP refers to the guidelines followed by the lab personnel to ensure accurate and safe lab procedures. It includes detailed SOP documents that specify each step of the lab process, from specimen collection to analysis and reporting.
What is SOP for medical professionals?
For medical professionals, SOP refers to standard procedures to be followed when diagnosing and treating patients. It ensures compliance with medical regulations and patient safety, and often includes Training Within Industry to enhance skills and knowledge.
Who writes the SOPs in clinical trials?
In clinical trials, SOPs are often written by a combination of the management team, scientists, and medical professionals. These include individuals with thorough knowledge of the clinical process and regulations to ensure that all procedures are compliant and that trials are conducted efficiently and safely.