Electronic ISF – Remote eISF solution for superior clinical trials
Upgrade your onsite monitoring approach and replace it with Agatha's secure, remote, electronic Investigator Site File (eISF). Our eISF solution streamlines the document collection and quality management for clinical trial sites while offering seamless exchange of regulated research documents.
Enhance your clinical trial process with Agatha's eISF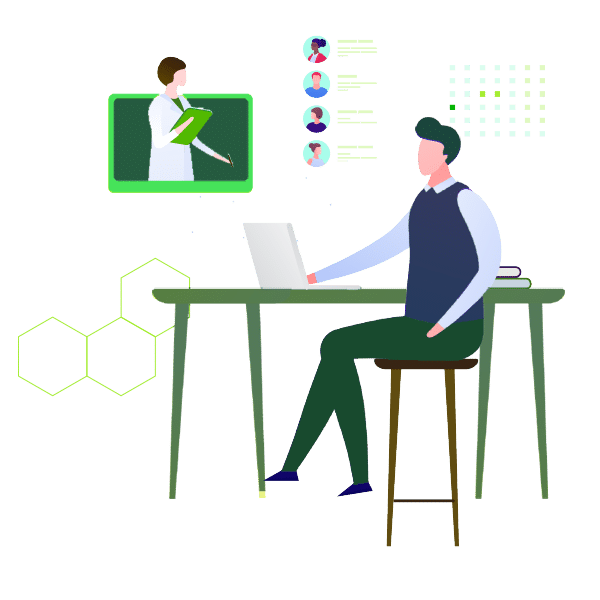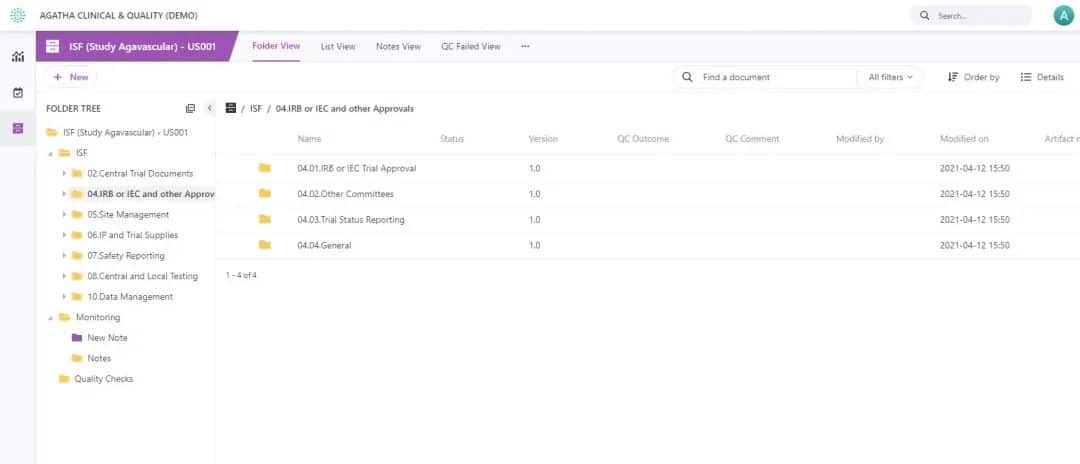 Elevate quality and cut down costs with Agatha's remote ISF solution
Planning to diminish time and expenses associated with the monitoring of your clinical trial sites? Our eISF solution presents a superior model, negating the need for on-site visits and reducing the administrative burden.
Bring uniformity to your clinical research sites with Agatha's eISF
Utilize Agatha's eISF solution to simplify your clinical trial process, maintaining audit-ready essential study documents. Achieve remote access to all critical trial documentation and promptly identify missing records, ensuring a compliant conduct of your trials.
Facilitate effective sponsor systems interaction with remote monitoring via Agatha's eISF
Agatha's eISF solution empowers monitors and inspectors to review source files, make notes, and complete their monitoring tasks, contributing to an efficient clinical trial process. The application also facilitates the creation and assignment of tasks for site administrators, enhancing the communication between technology systems.
Wave goodbye to regular onsite visits to clinical trial sites with Agatha
Take Control of Your Clinical Research with Agatha's Secure eISF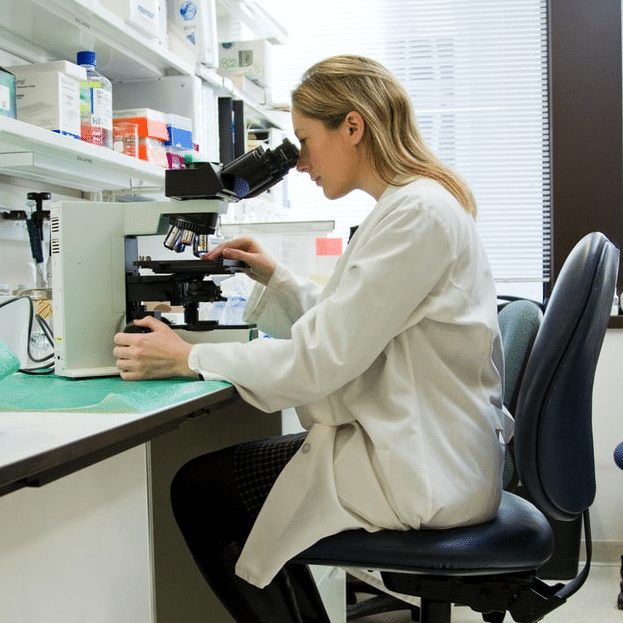 "Monitors would go out to sites and physically browse the documentation they needed access to and provide feedback to sites. Study coordinators and other site members were often there, and there was this feedback and interaction that you don't get in a remote framework. We wanted to make sure that monitors felt like they could do their job properly even though it was remote and that we were mirroring monitoring procedures."
Guilia Bignami
Clinical Research Associate, Optos
Enhance Your Clinical Trial Setup and Documentation Procedures with Agatha's Electronic ISF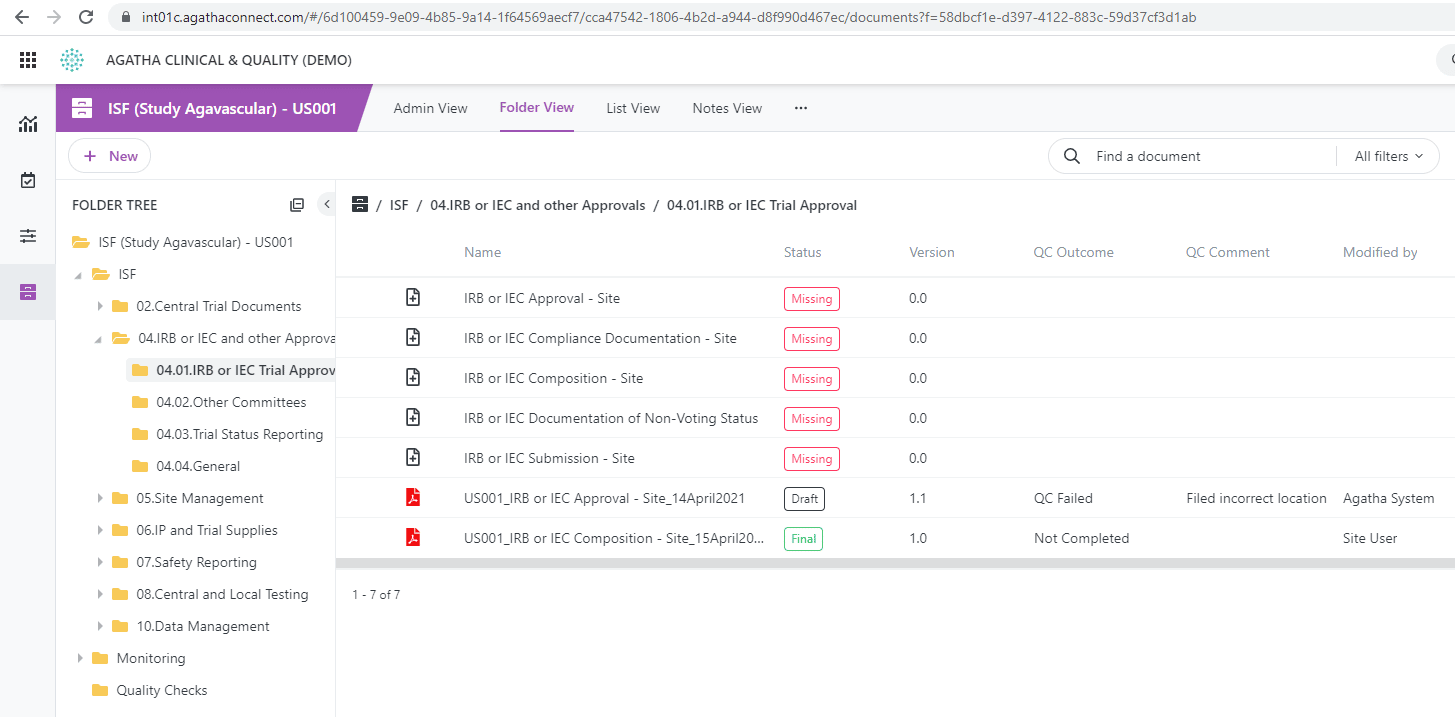 Simplify site & study configuration with our eISF
Craft separate, protected areas for each Site to handle its documents. Each site and study incorporates a complete set of placeholders for expected eISF documents. Apply configurable auto naming to maintain naming conventions adhering to trial standards and facilitate compliant document management.
Dashboard access: Efficient workspace & task management
View all your workspaces for each clinical trial site in the dashboard and quickly see and access tasks assigned to you. Use the configurable views to inspect, verify, and identify gaps in the expected eTMF contract at any time.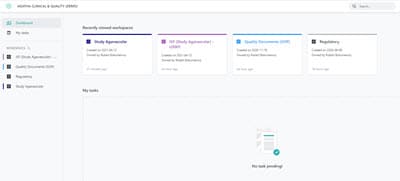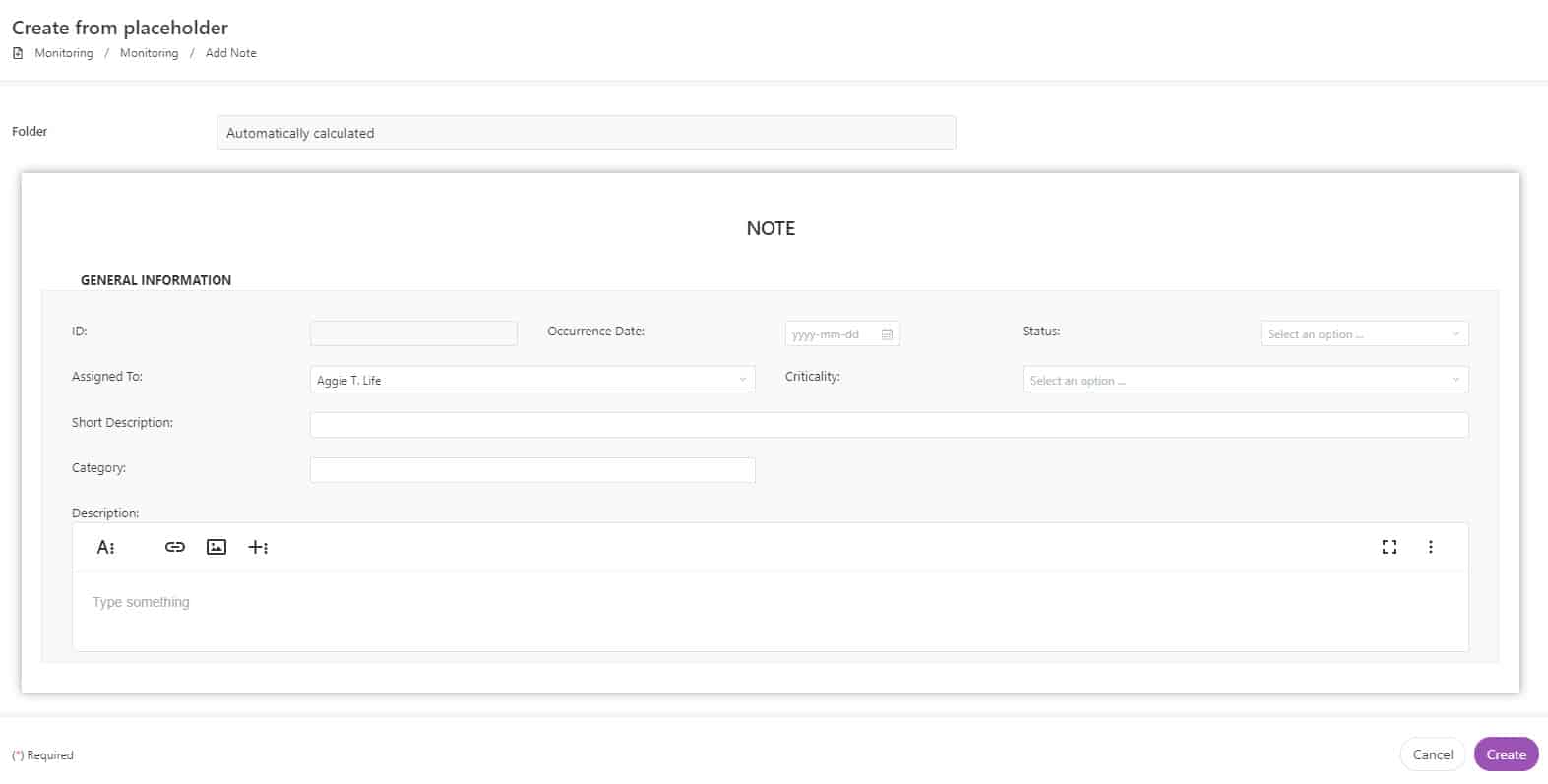 Real-time sharing of binder contents
Share binder contents (investigator site files, or eISF) in real time among monitors, sites, and sponsors. This enables remote document review and quality check in your clinical trial process, crucial for maintaining a steady flow of documents between sites. Utilize forms to communicate monitor notes and assign tasks to site personnel.
Regulatory compliance & quality check management
Pinpoint documents for the quality check process and track the quality review using custom views. Take advantage of workflows with electronic signatures to meet all compliance requirements. Establish automated workflows to transition final clinical study documents to the Master TMF.
Our eISF solution offers a secure document exchange platform that aligns with documentation requirements and trial conduct standards, boosting your trial oversight capabilities.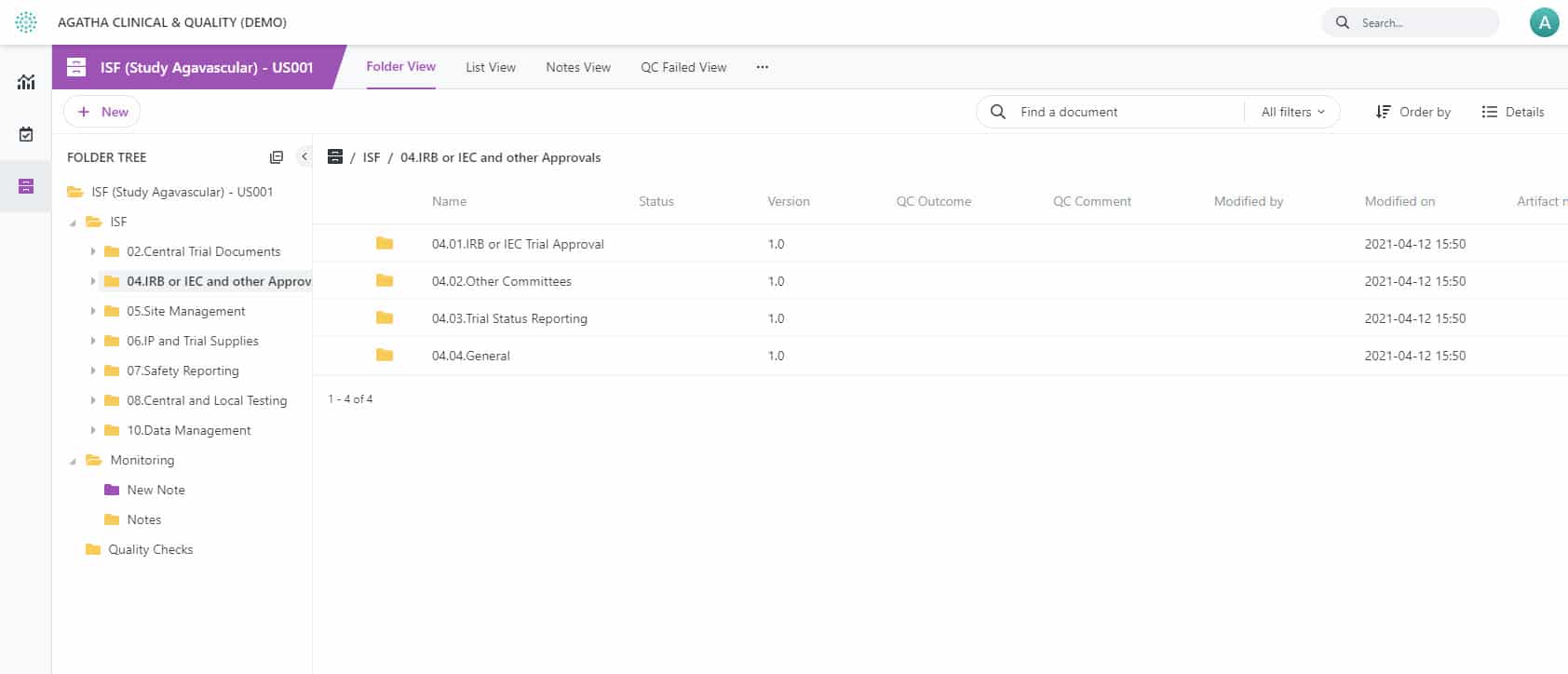 Get a free trial of our eISF solution for your clinical trials
The most effective way to gauge if an Agatha Application caters to your needs is to test it out. Good news – we provide a free trial of our eISF for your clinical trials.
There's More to Agatha Remote eISF
Custom Forms and Rendering
Leverage forms to drive processes based on metadata and use metadata to generate renditions.
Basic Preview and Annotations of essential site documents
Preview and annotate PDF and Office documents, and image.
Cross Workspace Reporting
Create views and reports across workspaces and export results to Excel for dashboard reporting.
Extended Template Sets
Collect feedback from sites with Post Market Surveys and collect consent documents with Informed Consent.
Advanced Policy and Access Management
Manage policies, associated roles, and access control easily.
Advanced Integration Toolkit
Use Agatha's Rest API to allow applications to upload or export items from Agatha (includes documentation and sample code).
Learn more about remote site monitoring and Agatha's electronic investigator site file solution
What is an electronic investigator site file (eISF)?
An electronic investigator file (eIF) is used to organize, collect, and maintain study documentation for a specific clinical trial site. The eISF is an electronic version of a traditional investigator site file, which was traditionally stored in paper format. A clinical trial is also responsible for maintaining and archiving their own investigator files.
Why use  an eISF?
Clinical trial sites often operate without a standardized protocol when it comes to the ISF, and it is often still papr documentation. This can cause difficulties, particularly considering that sponsors might enforce differing binder structures. As a consequence, the investigation website file (ISF), likewise called the website's regulatory binders, is unique to every study location and collaboration is made difficult because of the paper medium. Agatha Remote ISF offers a solution and a reference model for improved ISF during clinical trials
Offer standardized filing structures for your trial sites ISF
What documents are kept in the Investigator Site File (ISF)?
An ISF contains essential documentation that shows that the clinical trials sites and investigators are adhering to the regulatory standards outlined by the ICH GPCP. According to the ICH GCP 4th edition, essential documentation includes "docu­ments which individually and collectively permit evalua­tion of the conduction of the study and the quality of the evidence produced." All important documents must be submitted to the ISF within five working days of receiving them. These include any correspondence, reports, invoices, and contracts. They must be made readily available for inspection by the sponsor, its auditors, and regulators.
Examples of documents kept in an eISF
The investigator site file should include all relevant study documents, training documents, funding information, safety documentation, monitoring documents and more. Documents expected to be available for audit in the eISF are:
Trial Protocol;
Participant Information Sheet and Consent Forms;
Investigator Brochure;
Regulatory documents, applications and approvals;
Delegation Logs;
Safety Reports;
Correspondence between delegated site staff and Sponsor;
Pharmacy File;
How long are eISF documents conserved after a clinical study?
Following the end of clinical trials and the closing of a clinical study, essential documents must be conserved following regulatory requirements. The industry standard is to keep eISF documents for 30 years to be accessed by monitors or regulators if needed.
What is the difference between an eTMF and an eISF?
The electronic Investigator Site File (ISF) is a subset of documents stored in the electronic Trial Master File (eTMF). The difference between the eTMF and the eISF is that the investigator site file is compiled individually by each trial site. The research sponsor can then gather ISF files from each trial site and compile them in the eTMF.
ETMF systems and the TMF reference model have been adopted industry wide, but there is no specific ISF model for sites: they still do not have precise, standardized filing structures. Removing paper ISF files and managing a site's essential ISF documents electronically ensures a standard structure across all study sites.
What is the eISF in clinical trials?
In clinical trials, an Electronic Investigator Site File (eISF) is a secure digital platform for document collection and exchange activities. It ensures the seamless exchange of regulated research documents, which can be accessed from a central location, significantly reducing the administrative burden.
What is eISF?
eISF, or Electronic Investigator Site File, is an electronic form of the traditional paper ISF. It allows for a more efficient, secure model for managing essential study documents, audit findings, and visit guidance records, facilitating compliant conduct of trials.
What is an example of an eTMF?
An electronic Trial Master File (eTMF) is an example of an electronic system that stores clinical trial documentation. It offers a secure, central repository for documents over time and enables seamless document exchange activities among stakeholders.
What are the benefits of eISF?
eISF presents multiple benefits, such as enhanced security, efficient document collection, reduced risk of mistakes, and streamlined communication between technology systems. It supports site-specific participant recruitment and provides a scientific quality standard for trial documentation.
What is the difference between paper TMF and eTMF?
While a paper TMF involves physical storage of documents and poses risks related to damage or loss, an eTMF is an electronic version that provides secure, accessible storage and exchange of regulated research documents over time. It also supports an independent network of clinical research teams.
What is CTMS and eTMF?
A Clinical Trial Management System (CTMS) is a software system used to manage clinical trials, while eTMF is an electronic system that securely stores trial documents. Both work together to ensure efficient document collection and compliance with applicable regulations.
What advantages does eTMF offer over paper TMF?
eTMF offers several advantages over paper TMF, including improved security, easy access to documents, seamless document exchange, reduced administrative burden, and compliance with primary regulations. eTMF also provides a comprehensive audit trail and facilitates efficient study startup processes.
What documents are in an eTMF?
An eTMF includes essential trial documents such as informed consent forms, audit records, training documentation, recruitment materials, and safety letters. These documents are required for the compliant conduct of clinical trials and are stored securely for easy access.
What are the disadvantages of TMF?
Traditional TMF can be associated with high administrative costs, risk of document loss or damage, lack of efficient document exchange activities, and difficulties in maintaining compliant conduct of trials. It may also pose challenges in maintaining an accurate audit trail.
Why is eTMF needed?
eTMF is needed to facilitate secure and efficient document collection, ensure seamless exchange of trial documentation, and support compliance with regulatory requirements. It also allows for efficient study startup processes and easy access to documents for audits.
What is eTMF in clinical?
In clinical research, eTMF is an electronic system that securely stores and manages essential trial documents, including informed consent forms, audit records, and regulatory documents, supporting the compliant conduct of trials.
What is the difference between ISF and TMF?
An Investigator Site File (ISF) contains documents specific to each trial site, while a Trial Master File (TMF) is a comprehensive record of all documents related to a clinical trial. An eISF or eTMF is the electronic form of these files, ensuring more efficient and secure document management